TGIF. It's been a LOOOOONG week. Fortunately I can say with confidence that I was SUPER productive. One of my best friends offered to take care of Brayden yesterday so I could clean my house (and when I say clean, I mean scrub the baseboards, clean the window sills, mop till the floor sparkles, shampoo the carpets... CLEAN!) and finish cooking the last of the meals to freeze (I now have two meatloafs, 3 casseroles and 4 containers of soup on the deep freeze for after Connor is born). It took nearly5 hours to complete everything, and honestly it only really stayed sparkling clean for 5 hours (Brayden threw rice all over the floor during dinner)... but the fact of the matter is, it's clean. Which means I can say with confidence that my house is ready for Connor. To top off my productive week Drew is treating me today and sending me to get a maternity massage and a pedicure, and then is taking me out to dinner tonight. It's going to be a good weekend.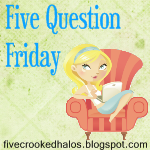 1. What is the most physically painful thing that has ever happened to you?
There are two things that come to mind when I read this question. The first is when I fell down the stairs in 10th grade (yeah, don't ask) and sprained my sciatic nerve. it killed for weeks. But I am pretty sure that childbirth beats the sciatic nerve sprain. Holy mother. I am definitely not looking forward to child birth in the next 2 weeks.
2. How much sleep do you get at night?
I average about 8 hours. Sometimes more, hardly ever less, otherwise I am like a mean bear woken from hibernation too early. It's not pretty. Ask Drew :)
3. How long did you believe in Santa Claus? How did you find out that he does not exist?
You know, I was just thinking about this the other day, and I honestly don't even remember. And I don't remember how I found out he didn't exist. I mean, I still get presents from Santa :)
4. What was the last movie you saw in a theater?
Iron Man 2. We RARELY go to the movies. Mostly because it's way too expensive, but also because Drew's not much of a movie person, so usually when we do go it's because he is humoring me :) We Redbox ALL the time though!
5. What do you wear to bed?
Boxers and a t-shirt. In the summer I skip the t-shirt and just wear a sports bra and boxers.