It's Friday Yall! Woo Hoo! That means it's the weekend, and we actually have temps projected into the 60s this week. It's like our little preview of spring... you know, before our 60% chance of snow next Tuesday. I don't want to talk about the snow. So let's have fun and jump into some 5QF answers!
1. If you had $1,000 to donate to a charity, which would you choose?
There is a local pregnancy center here in Northwest Arkansas called Loving Choices. We've always supported them in some way because Drew and I both feel strongly in giving women the education they need to make a decision of LIFE for their unborn child. Did you know that over 85% of women considering an abortion will choose life for their baby if they are offered an ultrasound? $25 will cover the cost of an ultrasound at Loving Choices, so $1000 could get stretched a long way.
2. Snow days: Do you welcome them happily or are they a pain in your butt?
I always welcomed them happily when I was younger, and even when I was working. But now that I have a toddler, I fully consider them a pain in the butt. Especially considering how Brayden responded to the
most recent snow "storm".
3. What talent did you wish you had and why?
I wish I could sing like Mariah Carey. Do I have to really explain why? Just imagine being able to sing like her in the shower!
4. Are you a news, politics or celebrity gossip junkie?
It depends on my mood. Most of the time I enjoy listening sports talk radio, particularly The Herd. So I suppose I am more of a news/political junkie.
5. What is your favorite "cocktail"? (Are you a beer person, a kiddie cocktail junkie, or perhaps your more the "Cosmo" kind?! Anything flies...doesn't hafta be alcoholic!)
Again, it depends on my mood. Although, I will tell you that while I was pregnant with Connor I CRAVED red wine. So the minute that babe started taking a bottle, I was on my way to the county line liquor store for a bottle of red wine. I do love me a cosmopolitan though, as well as a screwdriver, and for good measure I'll throw in a Miami Vice (if I am on the beach this is my drink of choice!). Gosh dang it... now I need to go and get a drink after writing all of those preferences :) haha!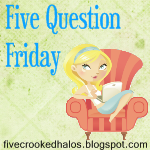 Hope everyone has a great weekend!