Today is Friday! Horray! This means that it's date night tonight. I have always loved date nights, but since having Brayden, I LIVE for date nights. It's like the one time that Drew and I can get away and actually talk about things other than poopy diapers and dirty dishes. But since I'm not in a big talkative, typative (just made up a word... what do you think?!) mode right now, I am going to skip right to the good stuff... 5QF!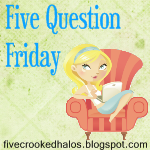 1. Take your pick...date night, girls night out, or night out alone?
Date night... DEFINITELY. I actually have to pick between girls nights and night with the hubs, and night with the hubs will always win. Especially with #2 on the way, I am just thirsty with one on one time with Drew.
2. Can you touch your nose with your tongue?
Sometimes, if I try really hard, I can touch the very base of my nose with my tongue. But I mean, I really have to try, and I don't see the point in straining my tongue muscle just to say I achieved something so trivial.
3. What is your favorite flower and why?
Well, there's really two if I am honest. A romantic flower would definitely be roses. I love roses. Especially when Drew brings them to me just because. It's easy to bring flowers to someone on Valentines day. There's reminders everywhere. But when he shows up at the door early from work with flowers, that makes me feel special. In fact, I have to brag on him for a bit. When we were engaged, when we hit 100 days from the wedding, I came home from class to a kitchen FULL of roses. 100 roses to be exact. The boy had bought out every Walmart in the city to get 100 roses. MELT. MY. HEART. Of course, roses are few and far between these days. Diapers, whole milk and deodorant usually surpass the priorities for roses in the budget. But I can remember the good times right?
Oh, and a flower just for fun... Gerber Daisies. They are just so happy. It's like God created them just to say, "Here's a little happy from me. Have a good day!"
4. If you could go back in time, what advice would you give yourself?
What a hard, hard question. I guess maybe that I shouldn't be as mean to my siblings. And that my parents are wise, wise people who want nothing but the best for me.
5. If you won the lottery, what is the very first thing you would do?
I'd invest it. No seriously, I would. Then Drew and I would strategically plan what we would want to do for the rest of our lives, and live off of the interest. If you want to know why I answered the question this way, google Dave Ramsey. I'm a big fan.